The newest release from Paris Movies directed by José Zelada and Richard Claus, the long Ainbo – A Guerreira da Amazônia é uma produção que aborda temas importantes como a proteção do meio ambiente e a sobrevivência dos povos indígenas que cada vez mais tem reivindicado seus direitos. Embora seja uma obra interessante, peca por copiar de forma descarada um clássico de 94. Apesar disso, não é motivo de descrédito. A lição que o longa se propõe a passar é transmitida com sucesso.
Em Ainbo – A Guerreira da Amazônia (Ainbo – Spirit of the Amazon), narra a história de uma jovem guerreira de 13 anos que nasceu e cresceu nas na aldeia de Candamo, na Amazônia. Porém, sua aldeia vem sofrendo com doenças causadas por outros humanos e suas maquinas, exploração ilegal da mineração de ouro e um mal espirito, o Yakuruna, um ser perverso que tem como objetivo ser idolatrado pelos indígenas – a primeira aparição dele, em forma de cobra, nos lembramos de algumas passagens bíblicas e com isso, percebemos que as coisas não surgem do nada. A presença do espírito maligno faz com que o ambiente fique carregado com energias negativas e a destruição por onde passa é fatal.
Para salvar o seu povo e sua aldeia, ela embarca numa jornada solo acompanhada por seus "guias espirituais", o tatu Dillo e a anta Vaca, para buscar a ajuda do mais poderoso Espírito Materno da Amazônia, a tartaruga gigante Motelo Mama, além de contar com o espírito de sua falecida mãe, uma guerreira indígena que reside numa árvore – esse detalhe nos faz lembrar de Thalia, filha de Zeus, na cena em que ela é transformada numa árvore.
A trilha sonora não é ruim e o enredo é bem escrito, com diálogos interessantes e alguns personagens se mostram à frente de seu tempo, como a liderança da tribo, um homem com idade avançada que coroa a sua filha de 13 anos que se torna a sua sucessora no trono, a própria Ainbo, que carrega um discurso feminista e empoderado, algo muito forte de ser ver numa narrativa infantil… ponto positivo.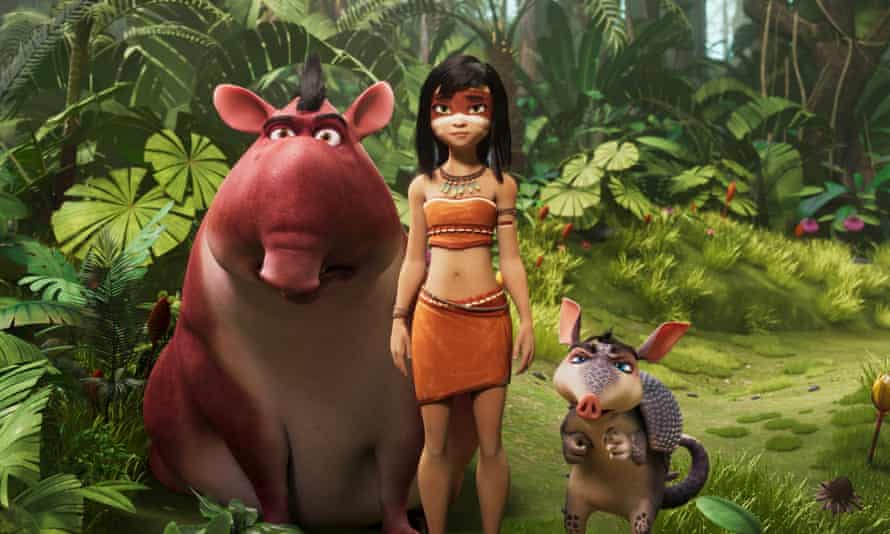 Um ponto negativo é o fato de beber demais do longa "O Reis Leão", embora não seja 100% idêntico, se inspirou demais e deixou a trama com cara de cópia e perde um pouco da sua originalidade e isso é percebido desde a contemplação dos guias espirituais – inspirados em Timão e Pumba – até a própria protagonista Ainbo, que funciona como uma espécie de Simba indígena.
Em relação a sua aparência técnica, deixa um pouco a desejar devido aos avanços desta área e se comparado com animações da Pixar, por exemplo. Mas mesmo assim, as cores são lindas e o momento em que Ainbo encontra a Motelo Mama é uma bela sequência, nos lembra do universo de AVATAR de tão bonito que é. Outra coisa que também é mal apresentada são os personagens, eles parecem muito superficiais, os olhos, os corpos… se assemelham a bonecas da Barbie e os olhos vermelhos do espírito maligno, Yakuruna, pode assustar os mais pequenos – eu que já tenho 24 me assustou imagine uma criança?!
Embora a Ainbo: A Guerreira da Amazônia se passe na Amazônia, a animação, coproduzida entre Peru, Holanda e Estados Unidos, não relata exatamente em qual parte da floresta se passa o filme. Sendo assim, não há menção ao Brasil. A julgar pelos países envolvidos, estima-se que a referência seja aos nossos vizinhos sul-americanos. O longa estreia no dia 30 de setembro.