The second season of the series has arrived Never Have I Ever, known in Brazil as I never… The original production of Netflix created by Mindy Kaling (The Office, Project Mindy), has been available in the catalog since the 15th of July and has been in the ranking of the most watched of the week and for various reasons. In addition to being a fun plot, with well-built characters and the themes covered by the series are relevant. And the most important thing is the fact that the series portrays the imperfections of the human being, showing that in addition to successes, life is full of mistakes and that's how we mature.
Read too Criticism | Never Have I Ever - Season 1
The second season has ten episodes that set in the second school year of Devi Vishwakumar (Maitreyi Ramakrishnan) which has many questionable attitudes, and for the most part, we get rancid with the girl because she is so clueless. However, we can reflect on the mistakes and bad attitudes taken by the protagonist.
We see that from the beginning of the plot, Devi is presented as a young woman who has everything. However, with the sudden death of his father, some problems began to arise that affected Devi's life, such as the troubled relationship with his mother and psychological paralysis. Despite having started to overcome the events seen in the first season, we realized that there is still a lot to overcome and this reflects in her personality as her mood changes very quickly, acts on impulse, mind, manipulates, and the worst thing is that she doesn't know what to make of all these conflicting feelings inside her. And the consequences are ill-thought-out descriptions that hurt people who care about her, who she cares about too.
Although it is easy to judge Devi's behavior, we realize that in some passages the show questions us too and makes the reflective air an intrinsic aspect of the series that is present from beginning to end. Can we reflect on the mistakes we make in adolescence, which in itself is a difficult period, imagine for someone who has gone through some stressful and traumatic situation? In the moment we are living, it is impossible not to feel like a fish out of water or anxious about some problem, big or not.
Here is the cherry of questions about Devi, in fact she who questions herself about her mental health, about her sanity and when she realizes the consequences generated by her poorly thought out attitudes, she gets sad. But the series makes all this sense of conflict, sadness, doubt, to be heard, to be welcomed and through the words of the Dr. Ryan (Niecy Nash) which talks about people who feel everything intensely and therefore live all their emotions in the extreme, we can see that life is like that. We learn from mistakes, our own and other people's. Another character who shares life lessons is Devi's grandmother who advises her not to waste time, because when we realize it, it can be too late.
The focus in Never Have I Ever it's not just for Devi. The production brings great themes for us to debate. Every moment we see that the series is constantly questioning the ideas "who I am" and "who should I be" and how it affects our life. The character's cousin, Kamala (Richa Moorjani), starts working in the area of her dreams, but she realizes that it's not easy. She realizes how misogynistic and sexist the corporate world can be. In addition, she also begins to see small problems in her relationship with Prashant (Rushi Kota) and wonders if she couldn't have a life different from what everyone thought for her. After all, what did she think to her?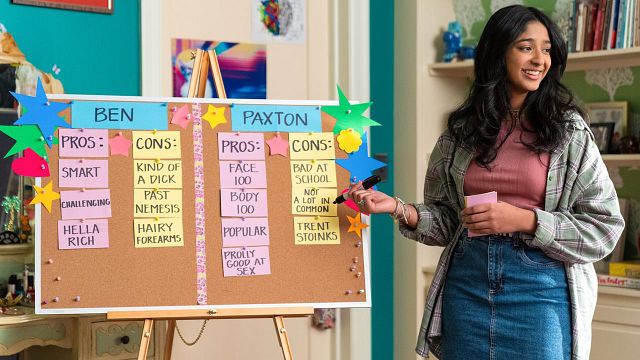 Another character who has a jolt is Devi's mother, Nalini (Poorna Jagannathan), which has great relevance during the ten episodes. She begins to blame herself for feeling like having someone after her husband's death. I believe that because it is a production idealized by women, these questions are more present in a woman's life, as the judgment and condemnation of the female posture is more common and the most tiring is having to prove oneself day after day. 
Another interesting situation is the conflict that Fabiola (Lee Rodriguez) feels to enter the universe of Eve (Christina Kartchner), your girlfriend. In the first season, she assumed her homosexuality and with that, she thought the problems would end. Wrong! She was faced with a totally different universe from her and the question "who am I" or "who should I be" returns. Throughout the series, she tries to please people in order to be accepted, but the main thing is that she is not happy and is not doing what she likes to satisfy other people. 
After having her expectations shattered by her absent mother in season one, the character Eleanor (Ramona Young) is also tested in her trajectory when she becomes the shadow of a boyfriend who didn't even like her, who scolded her, as well as putting him on a pedestal and not caring what her friends were saying about their abusive relationship. We see that she normalizes attitudes of a toxic relationship and cancels out in front of the male figure and worse, this torture only ends because he ends it and gives it the worst possible shape.
The sequence deals a lot with personal relationships, friendship, family and perhaps, by addressing these social spheres, Never Have I Ever it makes everything work out in the end and the fact of approaching complex conflicts in a natural way shows how well the script was done and this urgency to talk to the current generation about current problems was a genius insight. The soundtrack is very good and the looks are very interesting.