produce a Spin off of a classic villain is always very delicate, because any slip in a work of this type can take a feature from heaven to hell, and when it comes to venom Be even more careful because he is a villain so beloved by fans and is the antithesis of one of the main heroes of pop culture.
The character's first film garnered much criticism for the way the character was adapted to the big screen, because during production there were strong rumors of an adaptation that would be more focused on a thriller, and in the end an action with comic undertones was delivered.
And despite all these differences in the character's film version, the character's first film was still a commercial success, to the point where it received a sequel directed by Andy Serkins (Mogli: Between two worlds).
And this time the chosen villain is someone to match: Carnage, the scarlet symbiote is another villain with frequent presence in the stories of the Spider man, under the nickname of Cletus Kasady (Woody Harrelson), villain traditionally known for violence beyond the normal in his battles.
Venom: Time of Carnage it starts at the exact point that the post-credit scene of the first feature left us, with Eddie Brock (Tom Hardy) in contact with the killer, and during the plot we see a little more of the relationship between the host and Venom, and unlike the troubled relationship we are used to seeing in the comics where the symbiote tries to control the character, in the film we see a relationship of roommate between them, and this relationship creates a slapstick comedy vibe in the film.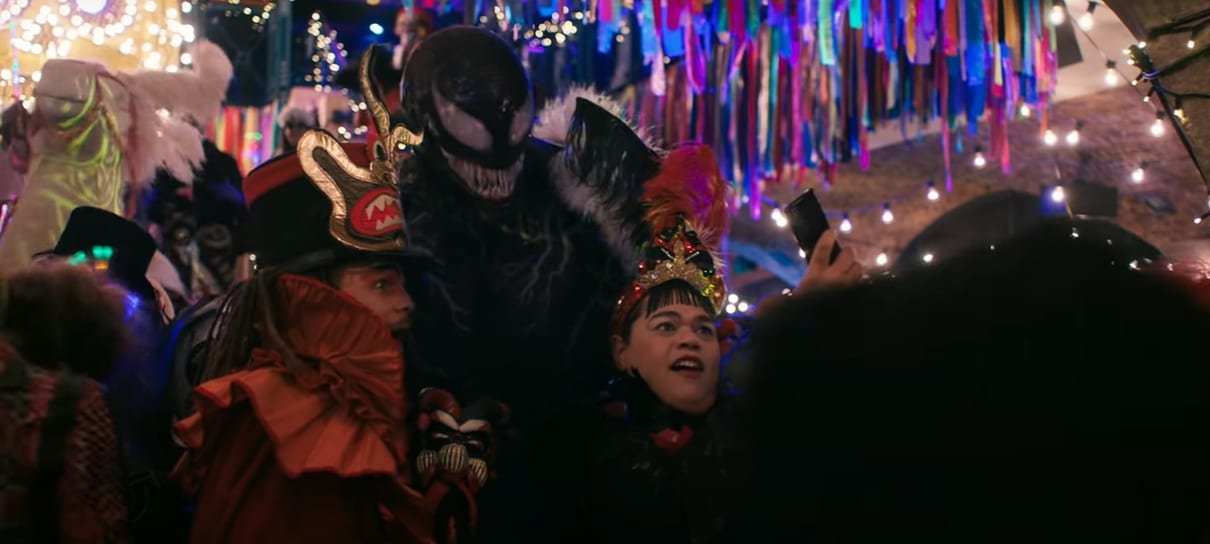 In contrast, the addition of the villain Carnage to the franchise carries a slightly heavier and terrifying tone behind its story, reminiscent of some horror movie narratives with serial killers at the center of the plot.
unfortunately the villain Shriek (Naomie Harris) that since the beginning of the adventure shows herself as a character with potential, ends up being left aside throughout the story, where before it was a central point.
It has an excellent introduction, but the film tries very hard to focus on the clash between Venom and Carnage, abandoning in the plot a character that would easily defeat the two.
Even though the script has its issues and at times we feel like we're watching the first movie again, and the relationship between Venom and Eddie Brock is more of the same we've seen before, the battle of the villains are excellent in mind-blowing scenes, and the mix of tones between the moods fits well into the story.
The high point of Venom: Time of Carnage it's the post-credit scene that creates tremendous anticipation and optimism about Venom's future in film.